Ditched into the North Atlantic
October 1943: Pilot Lieut. J. R. Brownstein ditched "Fox 5" of VC-13 aboard of USS Core into the North Atlantic Ocean – 1/144 scale vignette
How it all started
A few weeks ago, while searching the Internet for historical documents related to FM-2 Wildcats at the Atlantic Theatre, I came across a blog post by Michael G. Moskow on "thepastpresented.com." With great dedication, Mr. Moskow, starting from a January 1944 New York Times article, researched archives with amazing results: not only did he come across a series of eight, amazingly high-quality, photographs, he was also able to identify pilot Lieut. Julius R. Brownstein and conduct an interview with him.
This find, and especially the high quality work of Mr. Moskow, inspired me to build this little 1/144 scale vignette.
Image: New York Times, January 27 1944
scanned and researched by Michael G. Moskow thepastpresented.com
Photo: NARA RG 80 G 89624 / CVE 13 / # 414;
scanned and published by Michael G. Moskow thepastpresented.com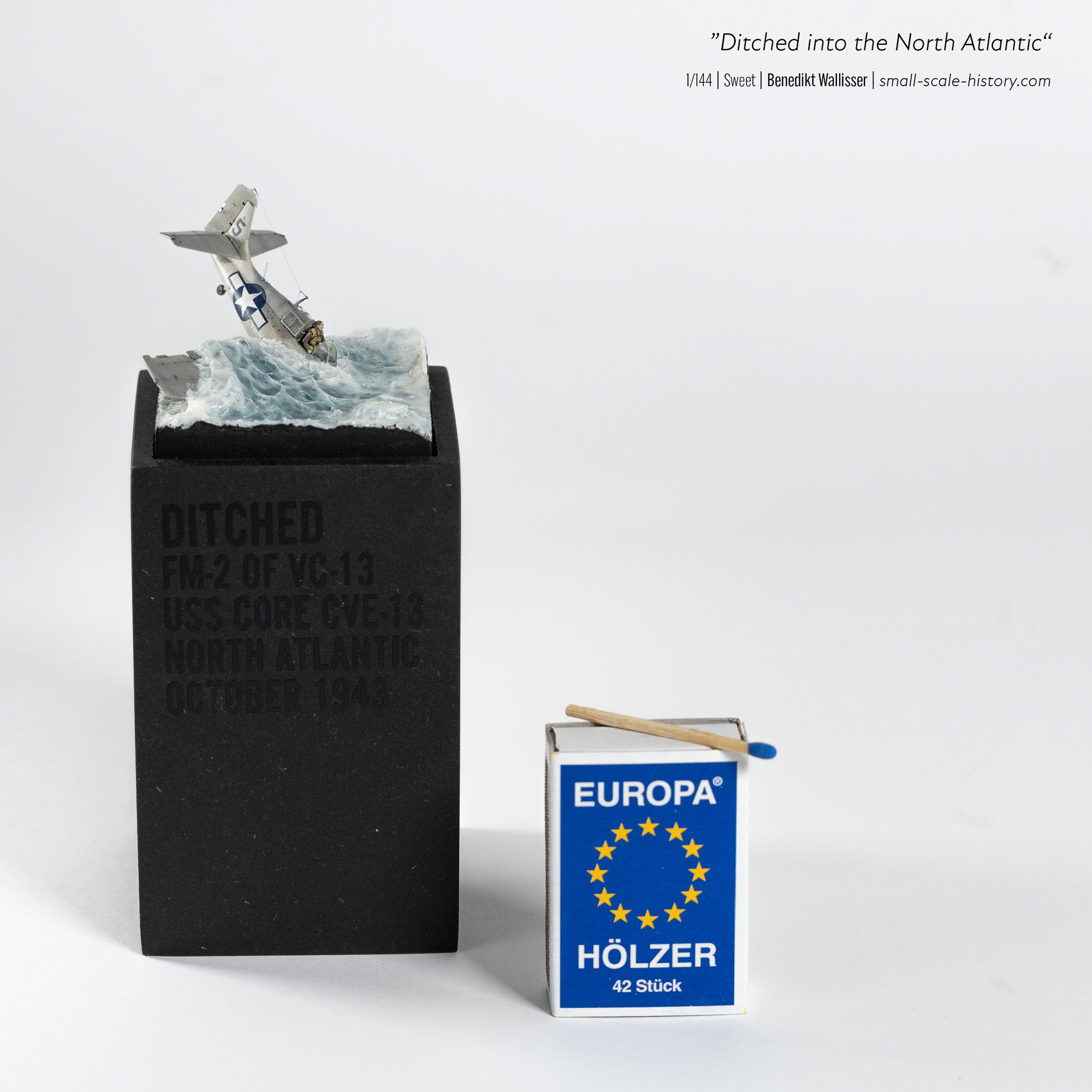 The story In a nutshell:
In October 1943, during a storm in the North Atlantic, Lieut. Julius R. Brownstein, escorting an Avenger torpedo bomber, launched his Wildcat from the deck of the Bogue-class carrier USS Core (CVE-13). Immediately after leaving the deck, he lost control of his aircraft due to difficult weather conditions and crashed into the North Atlantic. He was able to escape from the cockpit, and was rescued shortly thereafter by a Union destroyer without serious injury.
The Model

General Motors FM-2 Wildcat
VC-13, CVE-13 USS Core, October 1943, North Atlantic
Scale: 1/144
Height: 135mm
Length: 60mm
Width: 63mm
Kit: Sweet
Photo etched parts: Shelf Oddity
The model is based on the SWEET FM-2 kit and the SHELF ODDITY detail set. The kit is modified in many ways: scratch built landing flaps and cockpit, modified flaps, ailerons and pilot figure, deep drawn canopy and many little details more. The markings are taken from the kit's decal sheet, the numbers are masked and airbrushed.